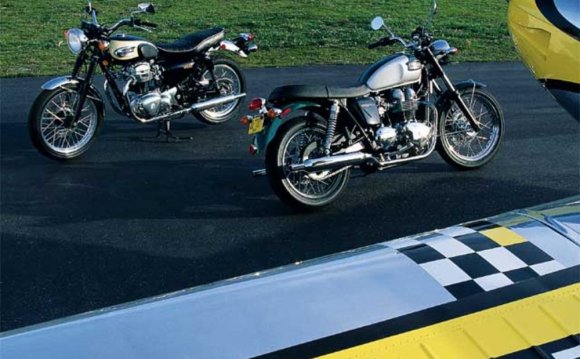 When it comes to cars, retro can often go so horribly wrong. It clashes with modern design and stutters along as the manufacturers try in vain to make new technology fit into a shape designed to a completely different set of rules.
The new Mini, which is one of the better stabs at retro, only worked because of a lot of effort (and bloody-mindedness) from BMW to not back down and get it accepted. The less said about Volkswagen's first "new" Beetle, Chrysler's awful PT Cruiser and the bizarre Plymouth Prowler the better. No one ever really gets it right, often building cars that are mostly poor cousins of the original models.
In the bike industry, it's almost completely the opposite. Ducati's Paul Smart special-edition racer was uber-cool and Harley-Davidson's never-ending line of retro bikes seems to always go down well with the buying public.
But the king of mass-market retro rides is, by a country mile, Triumph. With its line-up of bikes that hark back to the glory days of British biking, younger riders can experience that 1960s and 70s feel without the inherent problems associated with classic bikes.
The company has reinvented models that resonate with the modern market, but one model has remained almost unchanged since it first appeared on the roads more than half a century ago: the positively ancient Triumph Bonneville.
Named after the famous United States salt flats where cars and bikes attempted to crack speed records, the bike isn't really retro. It's more of a continuation of a standard model, albeit with a fairly large break in production.
The current Bonneville will leave classic owners cold, with its decent brakes, electronic ignition and the ability to keep its oil on the inside. It even has an on-board trip computer, cleverly hidden in the main gauge.
But one of the biggest advantages of the Bonneville is that it was designed in an era when handlebars were wide and people sat upright on the bike. Triumph has stuck to that design - and that makes it perfect for a new rider or someone returning to bikes after a long break. It's as easy to ride as a 125cc training bike, but without the terrible looks and total lack of power.
That's not to say that it won't also appeal to well-seasoned riders. OK, it's no race bike, but it doesn't pretend to be. The lack of a screen or fairing limits top speed from a comfort point of view, but the acceleration from a standing start is perfectly acceptable.
The engine is Triumph's air-cooled 865cc parallel twin motor, producing 67hp. That may not sound like much, but it pulls from very low in the revs, thanks to the 68Nm of torque. That makes it great for getting around town or through busy, slow-moving traffic. Electronic fuel injection keeps the delivery really smooth as well.
One of the biggest wonders is quite where all this stuff is hidden, as the bike has hardly changed since the original version all those years ago.
It also corners well, thanks to modern suspension, cleverly disguised to avoid spoiling the retro looks. The brakes are great and not too grabby, again making it easy to master and simple to ride. There really is little not to like about the Bonneville.
The styling may not be for everyone, so if you love retro and don't like the upright looks, go for the low-slung Thruxton instead. It shares the same motor, but has that sexy race look many riders want.
One annoyance is the lack of a fuel gauge, although a light does come on when you're getting low. Maybe that's supposed to be part of the whole retro feel, but in this day and age it's just silly not to know how close you are to empty, especially if you're out on the open road.
Older riders will love that it remains true to the original model, but with the comforts of a modern world, such as electric start, decent internals and that inherent reliability people expect nowadays.
Younger riders, on the other hand, will get a kick out of a thoroughly modern bike looking like it was built in the 1960s (which, originally, it was).
The Japanese manufacturers don't seem to want to chance their arm in the retro ring, which is probably for the best. Between Harley and Triumph, that market is pretty much sewn up. You need a historical legacy to do retro right and both have that in spades.
The Bonneville is a strange one to consider, as it's rooted in the past, but now built with the latest technology the bike industry can muster. Is it old? Is it new? That's not really the question. The real question is: does it still work as a bike after all these years? In that regard, it wins hands down.
Source: www.thenational.ae
INTERESTING VIDEO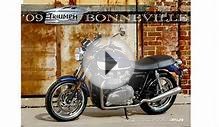 triumph bonneville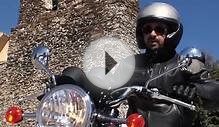 Prueba Triumph Bonneville T100 (Road Test)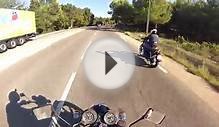 TRIUMPH BONNEVILLE / T140D SPECIAL 1979 / ROAD TEST / BAD ...
Share this Post